Calling, and paying, all Gabis.
You heard right: we are paying anyone named Gabi to change their name to Get A Better Insurance. This is your chance to become a certified brand ambassador for the only website that compares your home and auto policies in minutes.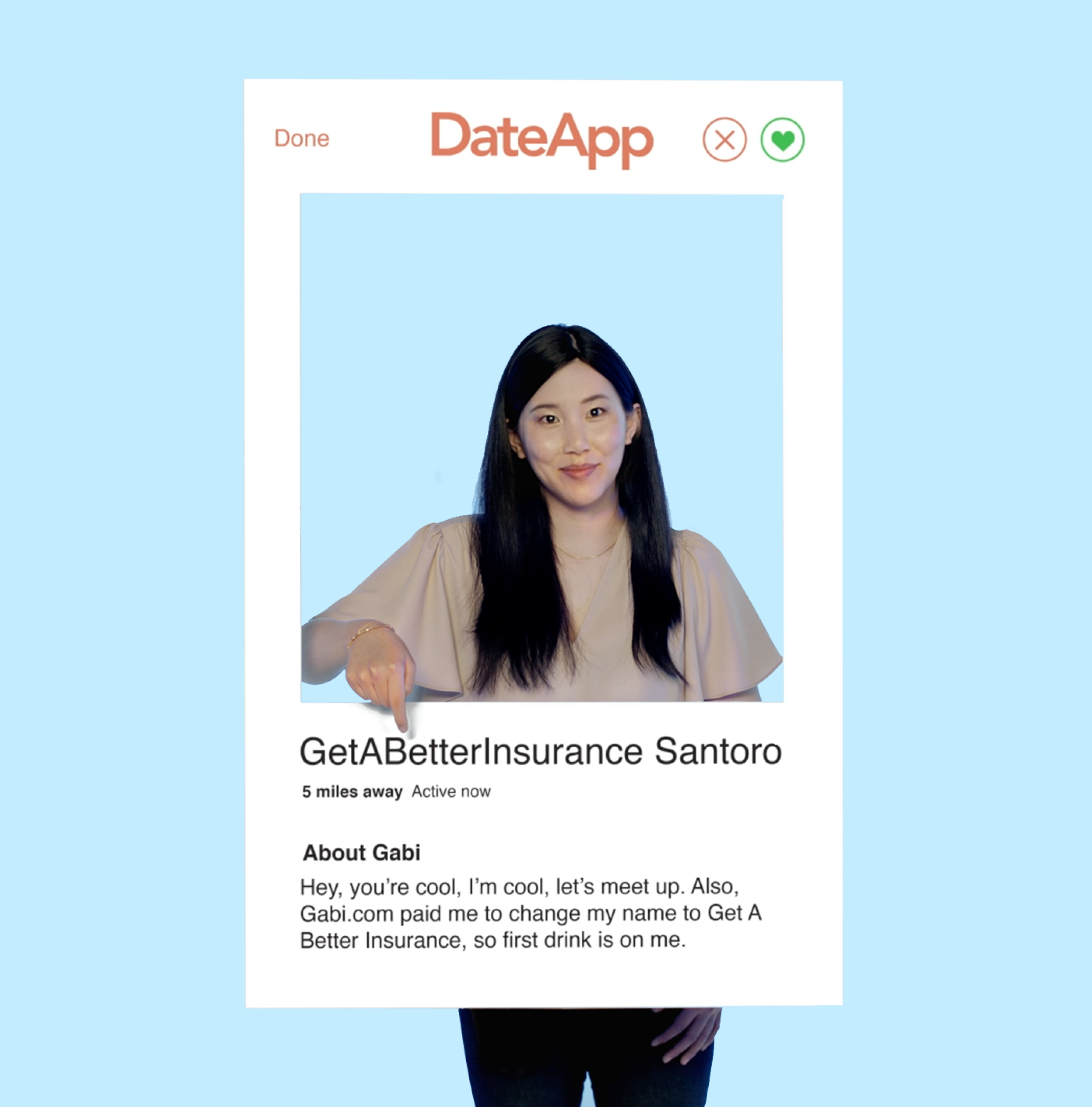 How it works
Just like our website that does the hard work of comparison shopping for insurance for you, participating in our name change campaign is pretty simple.
Change your display name on a popular social media platform to Get A Better Insurance (eligible platforms are Facebook, Instagram, or Twitter).
Create a post announcing to the world that you are (temporarily) changing your name, and make sure to include a link to Gabi.com.
Put a link to gabi.com somewhere in your bio.
Fill out
this form
, including a screenshot of your post.
We will verify your entry and send you $9.61 for your services.
Get started now
Submit your info to claim your reward.
Frequently Asked Questions
Is this real?
Really?
Of course! And we are patiently awaiting the droves of Gabis who can't wait to change their names.
Why?
Most insurance comparison websites just scrub the internet for the lowest quote they can find. Gabi.com is different—we use your policy to do true comparison shopping, so the rates you see are for the coverage you want. Obviously, this is an incredible breakthrough for anyone that has insurance, and therefore, a big moment for humanity. We want to get the word out, and we thought that the best way to do that is partner with people already named Gabi.
My name isn't Gabi. Can I still change my name?
Absolutely. We won't pay you, but we highly encourage it anyway—think of how popular you will be when you are named after the only website that can give you real rate comparisons based on your current coverage!
The good news is that no matter what you are named, you can still save big using Gabi.com to search for a new insurance policy. Pretty good consolation prize, if you ask us.
Technically, Gabi is my nickname…
Totally fine, Gabrielle...or Gabriel. In the spirit of inclusivity, if you shorten your real name to 'Gabi' as a nickname, and it's reflected on your social media, you're eligible.
I don't spell it Gabi. Gabby is what I go by. Is that cool?
It's all good Gabby. Join the party.
I'm not named Gabi, but I have a pet named Gabi. Can I enter them?
As long as they have a social media account, absolutely. Instead of sending in a driver's license, send in some documentation from the vet or shelter instead. We just ask that you spend some of that cash we send you on pampering your best friend.
What should I change my display name to? Can I keep my last name?
As long as 'Get A Better Insurance' is in there without being obscured, chopped up, or interrupted, you're good. A person named Gabi Smith could read: Get A Better Insurance Smith, Gabi 'Get A Better Insurance' Smith, or just Get A Better Insurance.
How long do I have to keep my name changed?
To be eligible for payment, your name change must last for at least one week. However, we recommend never changing it back.
Why $9.61? That seems oddly specific.
It's an homage to savings. Users of Gabi.com's comparison shopping tool save, on average, $961 a year!
What does my post need to look like?
Announce to the world you've changed your name in your own way, and share the link to our website. Tell them you are excited about a new, better way to get insurance, tell them you've sold out for $10, just express yourself. As long as you include our link, it can basically be whatever you like as long as it's not offensive or profane, although we've got a few rules as to what might disqualify you*.
Whoa, what might disqualify me?
Let us apologize in advance for getting a little serious for a moment. We reserve the right to disqualify anyone, but in particular, social media posts that contain the following will be automatically disqualified: No profanity, no political statements, no cross-promoting other brands, nothing that the Gabi team or general public would deem offensive.
I've got writer's block. Can you write the post for me?
Absolutely. Feel free to use the following however you like.
"Friends, family, colleagues and acquaintances, Via a partnership with Gabi.com, I am, for the time being, changing my name to Get A Better Insurance. Gabi.com uses your policy to find you the best insurance rates for the same coverage, saving people, on average, $961 a year on their policies! Was I paid to do this? Absolutely. Am I proud to do it? You betcha. Visit their website, and thank me later when you save big on the same insurance coverage."
If I do this, does that mean I am a social media influencer?
IT DOES. You could also call yourself a 'Brand Ambassador'. Add it to your resume, business card, and LinkedIn profile. And unlike most people who think they are social media influencers, you will actually be paid for your services.
I would like to legally and permanently change my name to Get A Better Insurance.
Really? Are you sure? Don't get us wrong, we are flattered, but that's a huge commitment….Look, we aren't going to tell you not to do this. If you actually go through the trouble and get this cleared by a judge, we will pay the court processing fees and work out a swag package, just for you.
I would like to name my unborn child Get A Better Insurance.
While a parent has the right to name their child as they wish, we would recommend you wait until that child turns 18, and let them make this incredibly wise decision for themselves.
Program Terms & Conditions